This article is intended to provide a short overview of the "free cargo bike"-movement in Germany. For more information please contact: florian @ wielebenwir.de
A bike called "KASIMIR"
It started with a single cargo bike on the streets of cologne: "KASIMIR – your cargo bike", established by the non-profit association "wielebenwir e.V." in 2013, is a "free cargo bike". KASIMIR is free to lend and it changes its pickup-location every month, demonstrating an alternative method of transportation in the spirit of commons.
Now, 2 years later, there are already over 30 initiatives in cities across Germany and Austria developing similar projects – with "Daniel" (Munich), Rudolf (Dortmund/Bochum) and "Freies Lastenrad Graz" (Graz, Austria) among the first already established.
Cargo bikes as common good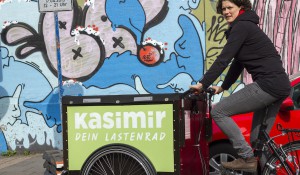 The idea is simple: A cargo bike, free to use for all citizens. If you choose to, you can make a donation which is used for repairs and the server costs, but it is not mandatory. KASIMIR and other "Free cargo bikes" are born out of the idea of sharing resources, but also try to change the way we transport goods in the city.
"KASIMIR is a trojan cargo bike", says Hannes Wöhrle from wielebenwir. "We want to give everybody easy and access to cargo bikes, so more citizens can try out this great alternative to a car. Using KASIMIR is free and fun, and we hope to inspire people to consider buying their own or start a similar initiative."
From a single bike to a network
For wielebenwir, the project quickly expanded from the management of the bikes in cologne to support a rapidly growing network with tools, knowledge and consulting – including the development of a open-source booking software, a conference, and a online knowledge database (WIKI).
Hannes Wöhrle: "This project is about sharing, not only the bike, but also the underlying concept, the how-to, from marketing to insurance".
Painless booking
Apart from creating a highly recognisable, attractive "brand", wielebenwir also implemented a simple registration and booking process – based on trust.
The booking is handled online, after registration on Kasimir´s Website you just pick a date on the booking calender, and are automatically sent a code. Go to KASIMIR´s current station, show the code and your ID, and off you go.
The software that powers KASIMIR´s online-booking was developed by wielebenwir and is now being re-written as a open source WordPress plugin.
From station to station
Stations like cafés, shops and community centers host KASIMIR and handle the keys without monetary compensation, but will get lots of new visitors in return. The concept is so attractive that some of them are even considering buying their own cargo bikes.
What´s next: A conference, a online knowledge platform and open source software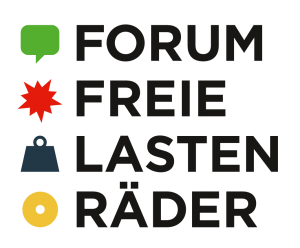 From the very start, the feedback has been very positive, both from press, users and stations. But it were the requests from initiatives all over Germany and Austria that really expanded the projects' scope, prompting wielebenwir to establish new tools and networking platforms – all in the spirit of the open source community.
First, there´s dein-lastenrad.de, a online WIKI serving both as a directory of initiatives and a knowledge database.
"Forum Freie Lastenräder" (June 20th 2015 in cologne) is a conference for exchange, workshops and talks about "free cargo bike" projects. Initiatives interested in starting or already running a project are cordially invited. Attendance is (of course) free of charge.
From the beginning, the custom booking software developed for Kasimir was a common request. A complete rewrite is currently in the works, it will be released as open source software in time for the "Forum freie Lastenräder".
Changing the city, one cargo bike at a time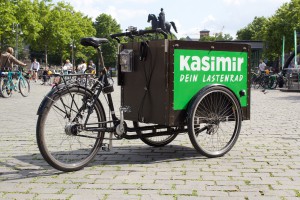 "We are extremely thankful for all the attention and support that our little cargo bike project has enjoyed since the very beginning" says Wöhrle. The bike was never stolen or willfully damaged, and the network continues to grow.
"Two years ago, we put trust in the concept, and trust in the citizens of cologne. We are very happy how it turned out, and will continue to work on and develop new actions to support and expand both the KASIMIR project and the free cargo bike network".
---
About wielebenwir
"wielebenwir e.V." is a cologne-based non-profit association that develops and runs multi-disciplinary projects around urban culture, sustainable transportation and the sharing of both material- and immaterial goods.
Press contact: Christian Wenzel, presse@wielebenwir.de